The Next Submarine Cable Construction Boom.
Thirteen new systems worth a cumulative $2.4 billion were deployed in 2016.
A notable feature of the recent upswing in cable construction is the breadth and depth of its geographic scope. Nearly every global route grouping saw new subsea cables between 2015 and 2016.
In the next two years investment is poised to continue on most routes with the launch of systems such as Seabras-1 (Latin America), New Cross Pacific (trans-Pacific), and others. Latin America leads the way with $1.5 billion of new cable investment in 2017 and 2018.
Submarine Cable Construction Cost by Region (2015-2018)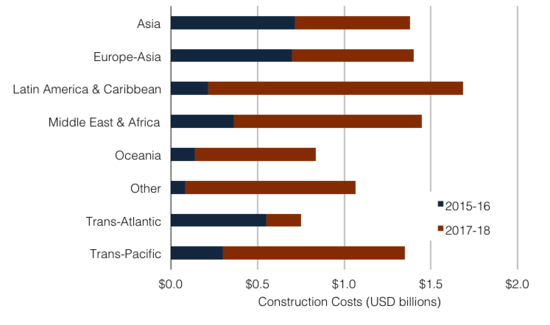 TeleGeography's Global Bandwidth Research Service provides the most comprehesive and reliable research for both submarine cables and long-haul networks. Get a partial preview of the details found in the future submarine cable list, a regularly update feature of our research service.