Introducing the 2023 State of the Network Report—our sixth annual review of all things telecom.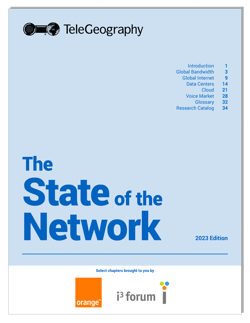 We again extract the major global bandwidth headlines, take a snapshot of the global internet, peruse the latest in data centers, check in on the cloud, and finish with an update from the voice market.
But what's new and different? What's the data telling us in 2023?
Here's a taste of what you'll find in this year's rundown:
Demand for international bandwidth is nearly doubling every two years.
While 10 GigE remains a relevant increment of IP transit, particularly in more emerging markets, its share of the transaction mix continues to yield to 100 GigE.
Critically necessary plans are underway to pursue more sustainable development in the data center sector.
Close to 50 new cloud regions are expected to launch over the next couple of years.
Taken together, this information pieces together what we'll be talking about in the year ahead, each data point another patch in the quilt that is 2023.
Fill out the form on this page and we'll send a copy to your inbox.
Many thanks to our 2023 chapter sponsors