What is this view?
Welcome to Data Navigator. This view allows users to explore information from different TeleGeography subscriptions and datasets in a single dashboard, which can be filtered by geography or company.
What data can I see here?
We've hand-selected a few summary data points from each of our research services to feature in Data Navigator.
The research services from which we've pulled this information go into greater detail, but Data Navigator is a great place to get a high-level snapshot of intelligence from across TeleGeography's research suite.
How do I use the search tool?
Data Navigator is all about drilling down to the data points that matter to you.
Start by clicking the Country or Company buttons at the top of Data Navigator. Selecting any of the available options will take you to a dedicated Data Navigator page full of related information.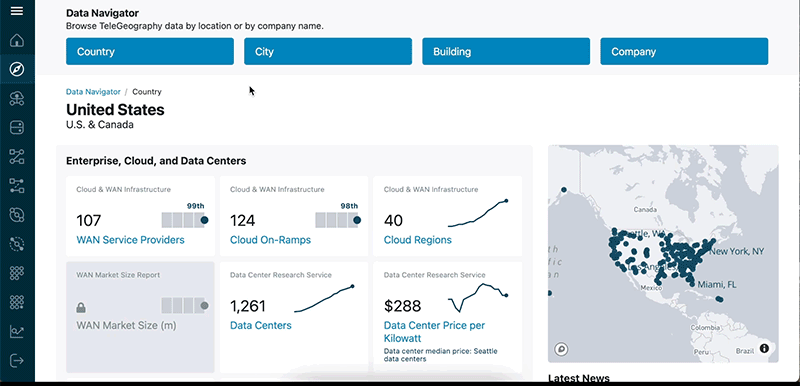 The Cities button provides a list of available cities within the country you've selected. Likewise, the Buildings button provides a list of available buildings inside the city or country you have selected.
How do I get to Data Navigator?
Keep an eye out for the
symbol. We use this compass icon on the sidebar of all TeleGeography products to quickly link you to Data Navigator.
We're also rolling out links to Data Navigator within other TeleGeography products. If you see a hyperlink within a TeleGeography research service tagged with this symbol, that link will take you to the related Data Navigator page.
Why do some companies appear and others don't?
We track a wide variety of companies across TeleGeography research. Data Navigator allows you to view company-related intel from different research services in one location.
To that end, we only feature companies in Data Navigator if related information appears in three or more separate research services. You can explore information about companies appearing in fewer than three research tools within your individual subscriptions.
Why are some geographies present and not others?
And what's the difference between blue and gray dots on company profile maps?
Same deal as companies; we only feature geographies (Country, City, Buildings) that appear in multiple TeleGeography research services.
Blue dots on company profile maps indicate cities covered by that company that also have their own City Page in Data Navigator. Click on a blue dot to take a look.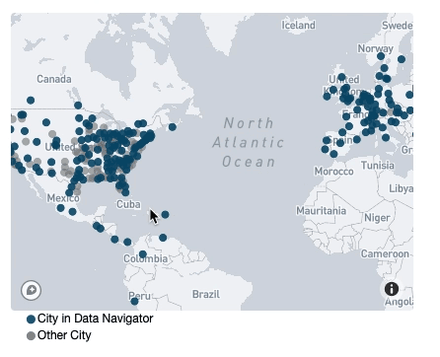 Gray dots indicate cities where a company has a presence, but we don't cover that city in enough research lines to feature it in Data Navigator.
As a general rule, large cities are featured in Data Navigator, smaller ones may not be.
Is all of TeleGeography's research represented in Data Navigator?
Is there more data available than what appears here?
We have other research tools that are not currently represented in Data Navigator. You can peruse the full catalog over here.
All individual TeleGeography research subscriptions—even those represented in this space—contain lots more intel. We've simply selected a few top-line data points from core services across the most common dimensions (Geography and Company) to build a cross-product snapshot.
To jump to detailed company and geography profiles, analyst reporting, and other information, click the related card in Data Navigator to be routed into the corresponding research module.
What are the percentile charts showing?
Percentile charts show where the selected Geography or Company ranks for a given data type.
For example, a company listed as 65th percentile for Cities with WAN Service means that the selected company can provide WAN Services in more cities than 65% of the companies we feature in Data Navigator.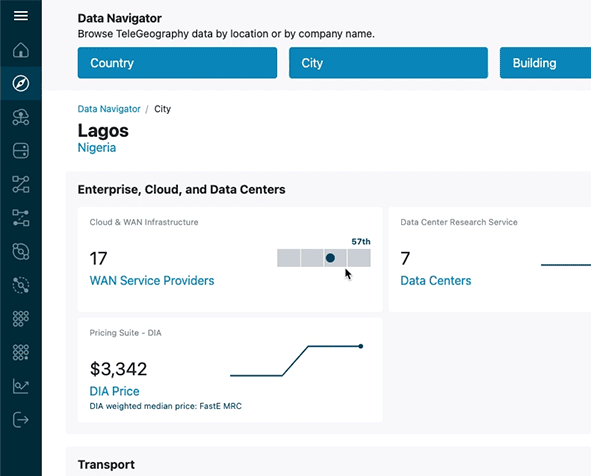 Put another way, this company ranks in the top 35% of companies in terms of WAN service city coverage.
Where can I download this data?
Click on any card in Data Navigator to go to the TeleGeography research module from which that data came. Within each module, you may download the desired source data.
Where can I get more information about this tool?
For more information about how to use Data Navigator, the research included inside, or how to unlock new data sets, drop our team a line at info@telegeography.com. We'd love to show you what's possible.