We extracted vendor profiles from our SD-WAN Research Service and turned them into a handy free guide.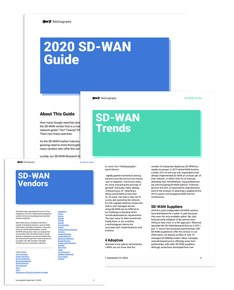 TeleGeography's SD-WAN Research Service has been cataloging the vendor landscape since SD-WAN came on the scene. We extracted detailed vendor profiles from this service to create our SD-WAN Guide, which has been updated for 2021.
You'll also find additional insight on SD-WAN trends from our arsenal of research included in this offering.
Fill out the form on this page to get your edition. We'll also send a link to your inbox for fast reference.
What is SD-WAN in 3 Minutes
SD-WAN Vendors
SD-WAN vendors generally fall into one of two categories.
The first is large network equipment vendors that have long designed and provided network equipment. Many WAN service companies that offer a number of enterprise solutions—such as WAN optimization and WAN acceleration—have also come out with SD-WAN solutions. Further, SD-WAN startups also make up a large portion of the market. Most SD-WAN vendors will sell directly to enterprises, but several indicated they sell exclusively through their channel partners or to carriers, who then provide a managed SD-WAN service to enterprise customers.
Managed Network Providers
A number of traditional network service providers have also entered the SD-WAN marketplace, offering service through partnerships with SD-WAN vendors rather than via their own proprietary hardware. This type of service is appealing to enterprise customers who may already be familiar with a carrier's brand, employ them for other connectivity services, or who are looking for a truly managed end-to-end solution.
The core benefits associated with SD-WAN technology are consistent across provider offerings: reduced network cost, decreased network complexity, ease of upgrades or policy changes, and increased flexibility and network performance.
Aside from absolute price, which can be a significant determinant in vendor selection, features like deployment model, scalability, and service package can help corporate networks teams decide which SD-WAN provider best meets their network requirements.